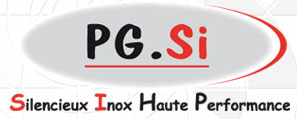 Realisation et commercialisation de Silencieux,
d'echappement Inox
CUSTOM DESIGNED SILENCERS

We offer 2 different kinds of custom silencers :



- Radius inlet / axial outlet silencers
- Axial inlet / outlet silencers
Our range of (flat bottommed) silencers is designed according to your specifications.

They are made for 304L stainless steel and/or 316L in 2 or 3 mm thick tubes.

Inlet and outlet silencer are flat smooth.

A wide range of accessories is availabel (flange kit, compensators, etc) in the Accessories section.
Z.A. du Haut Coin Nord - 44140 AIGREFEUILLE/MAINE - Tel : +33-(0) 2.40.06.68.95 Fax : +33-(0) 2.40.06.68.98