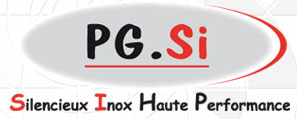 Realisation et commercialisation de Silencieux,
d'echappement Inox

We offer 2 kinds of stainless steel standard silencers :



- Radius inlet / axial outlet silencers
- Axial inlet / outlet silencers
Our range of flat bottommed silencers covers DN50 till DN125.

They are made of 304L stainless steel in 2 mm thick tubes.

Silencer's inlet and outlet are slick bottomed.

A wide range of accessories is availabel (flange kit, compensators, etc) in the Accessories section
.


| | | | | | |
| --- | --- | --- | --- | --- | --- |
| L | 560 | 740 | 900 | 1100 | 1250 |
| Lt | 70 | 70 | 70 | 70 | 100 |
| Lx | 440 | 590 | 710 | 880 | 1025 |
| D | 168.3 | 204 | 254 | 323.9 | 406.4 |
| d | 60.3 | 76.1 | 88.9 | 114.3 | 139.7 |



| | | | | | |
| --- | --- | --- | --- | --- | --- |
| L | 456 | 556 | 651 | 767 | 876 |
| Lt | 78 | 78 | 72 | 80 | 58 |
| D | 154 | 154 | 204 | 204 | 254 |
| d | 60.3 | 76.1 | 88.9 | 114.3 | 139.7 |
Z.A. du Haut Coin Nord - 44140 AIGREFEUILLE/MAINE - Tel : +33-(0) 2.40.06.68.95 Fax : +33-(0) 2.40.06.68.98