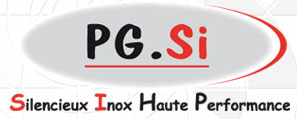 Realisation et commercialisation de Silencieux,
d'echappement Inox



PG.
Si

is the dedicated mark for realisation and marketting of stainless silence box.

The noise is ,nowadays an environmental problem which is advisable to reduce to its maximum. That's what Pg.Service Silencers are all about.

Located at south of Nantes, in Aigrefeuille/Maine (44). PG.Si is at your disposal for realisation and marketting of stainless silence boxe.


Industry and marin silence box

The silencers are used to reduce the noise level emitted at the end of the exhaust and thus in the environment. It is directly placed at the end of the engine.

It can be realized on size (according to your condition's schedule) or according to a standard abacus.


The operation of a silencer is based on the principle of absorption.
- Stainless steel is the primary material for the realisation of our silencer.
This product is essentially dedicated to marine's engines, and thus will be during a short period of time exposed to marine winds and sea water.
Enshures a long life expectance thanks to little oxidization.
- Exhaust gazes will cross the main cylinder at close to 600°C temperatures. Acoustic waves are absorbed by insulating materials inside the cylinder shell and cigar.
- Within the sound spectrum, we work on all frequencies, from 31.5 Hz till 8 000 Hz.
- Our manufactured products cope with many industrial, shipping and river boats applications.
Our scope of activities :

- Marine
- Industry
Some references :

Mecanical worshops :
- A.M.H (Noirmoutier 85)
- A.M.P (La Rochelle 17)
- BUTAUD et Fils (Les Sables d'Olonne 85)
- CUMMINS Marine (Nantes 44)
- E.M.D (Boulogne sur mer 62)
- MECAPECHE (Noirmoutier 85)
- MECATLANTIC (Saint Herblain 44)
- S.C.M.M (Saint Pierre d'Oléron 17)


Ships – Shipping companies :
- Ablette (Les Sables d'Olonne 85)
- Diabolo (La Turballe 44)
- Kerpenhir (Vannes 56)
- Laksmi (Saint Pierre la Réunion 97)
- La Mordorée (Saint Nazaire 44)
- Les Misérables (Noirmoutier 85)
- Président Busta (Saint Nazaire 44)
- Thétys (Hendaye 64)

Dredges :
- Côte de Bretagne
André Gendre (Nantes 44)





Service boats :
- Ferry Safari Djéma (Mayotte 97)
- Ferry Maöré Mawa (Mayotte 97)
- Loire river ferries Saint Hermeland (Nantes 44)
- Vedette de Lamanage ALU MARINE
(Bouguenais 44)
- Oyster barges Chantier DELAVERGNE (Avrillé 85)
Z.A. du Haut Coin Nord - 44140 AIGREFEUILLE/MAINE - Tel : +33-(0) 2.40.06.68.95 Fax : +33-(0) 2.40.06.68.98