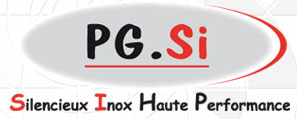 Realisation et commercialisation de Silencieux,
d'echappement Inox
Always made of 316L SST

(because of contact with seawater) the function of a wet exhaust on a marine exhaust system is to collect the exhaust gasses and engine's cooling water à water injection system outlet

.

The purpose of this wet silencer is to keep the mixture before discharging it overboard and dampen the exhaust noises.

This manifold is designed according to the engine's cooling water pump and exhaust gasses flow.

At the outlet of the wet silencer, a goose neck must be installed.
Without this goose neck, the cooling water could return into the engine.
Z.A. du Haut Coin Nord - 44140 AIGREFEUILLE/MAINE - Tel : +33-(0) 2.40.06.68.95 Fax : +33-(0) 2.40.06.68.98